Harvey Specter's Dinner with ChefXchange
At ChefXchange we love food, but we also love TV shows!
Picture this: Harvey Specter from Suits organized a dinner this week with ChefXchange….

Wednesday, 10AM – Hotel Swankie-Town in NYC
Harvey is all geared up to go and sign a big new client for the firm. A reservation was made in one of the best hotels in the city for breakfast. He really needed to sign this deal to get Jessica off his back.
USD 15K suit: ON
Million-dollar attitude: ON
The best hairstyle in NYC: ON
Mike and his skinny tie: Wait…what? Sure…. come along…
Breakfast was amazing, the meeting on the other hand….not that much.
Wednesday, 11:30AM – Back to the firm, in Jessica's office
Harvey has to announce to Jessica that the client wasn't impressed. Harvey needs to step up his game or he will lose the biggest fish in NYC.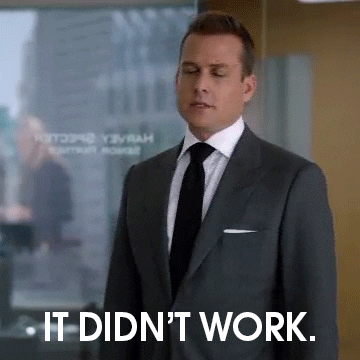 Jessica: " Invite him for dinner. At your place. Tomorrow."
Harvey: "…"
Jessica: "I'm not joking Harvey, you couldn't impress him with the best hotel in NY, you're going to have to find another way."
Wednesday 11:40AM – in front of Harvey's office
Harvey: "Donn…"
Donna: " Dinner. Tomorrow. Your place. 7PM. Will book a Chef with ChefXchange."
Harvey: " How did y…"
Donna: "Hey! Do you know who I am?"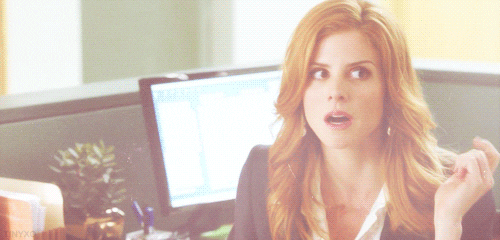 Donna: "Ok, let's have a look…Cuisine: French, Italian, something classy. And a chef available tomorrow.
There we go! One click away! Chef Pascal, Chef Giovanni & Chef Maxime.
Menus…. 'Paris je t'aime'…This looks delicious but I'll keep this one for my next date….
'Summer Cocktails', not bad, but we need something that says 'Hey, I'm the best lawyer in town, and this is the best dinner you'll ever have'. … 'Boca, Mediterranean food in style' this is what we need: refined dishes, a true fine-dining restaurant experience at home. Damn that looks good!
Chef Maxime's Menu
Marinated Amberjack Crudo with Citrus & Basil & Chili Oil
Grilled Sardine Crostini
Grilled Octopus & Cecina de Leon
Black Rice with Seared Scallops & Aromatic Clams
Hanger Steak with Snail Persillade, Dried Tomatoes & Chard Onion
Raspberry & Mascarpone Creme Brulee
Foodie profile created, Chef contacted. And it only took 1 minute to pay for the dinner with Harvey's Amex Centurion card. How amazing is that? How amazing am I?
Wednesday, 1 PM – Harvey's office
Donna: "Harvey"
Harvey: "What?"
Donna: "Did you tell Luis he wasn't invited to dinner tonight?"
Harvey: "Yes why?"
Donna: "Well…Did you tell him he wasn't invited because he obviously had enough to eat anyways?"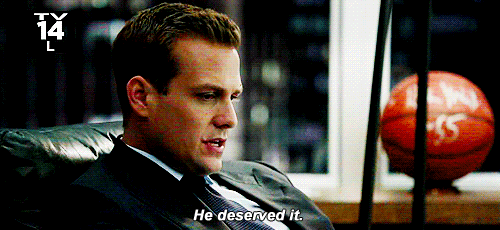 After a long talk about ethics, friendship, righteousness and Luis' obvious awe for Harvey, Donna manages to get Luis on the guest list for the dinner. – not that Harvey really cared anyway….
Thursday 5PM – Harvey's place
Harvey arrives from another day kicking-butts in court and the Chef is already cooking a 5-course menu that will make the best restaurants in the city jealous.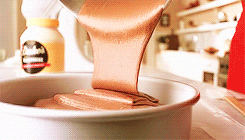 Thursday, 7:30PM
After an expensive drink served in the lounge, the dinner is ready to be served.
Food is simply amazing.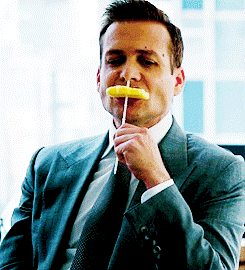 A couple of bottles of Chateau Margaux are doing the trick too.
Company is – almost – delightful, if it wasn't for Luis and his cat stories.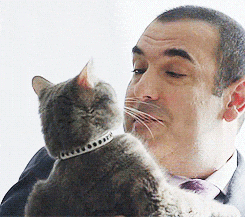 Client: "Harvey, I like you. I'll pass by the office to sign the papers tomorrow."
Who would have thought that hiring a private Chef would be the perfect solution to impress your best client?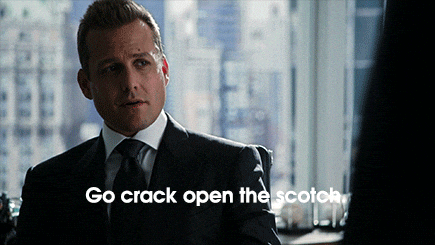 And…..another client signed– without even stepping foot in the kitchen. That chef surely deserved his 1000$ tip.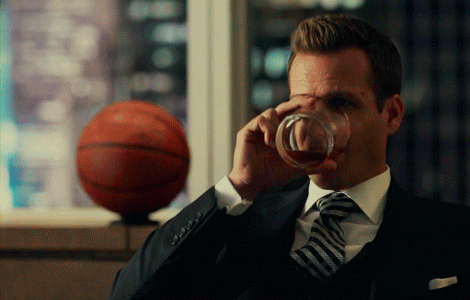 We all know Harvey organizes the best dinners in town, after all:
It's not bragging if it's true.
Images sources: scienceofpeople.com & giphy.com